Ngày 12/10, Đại sứ Phạm Sanh Châu đã có buổi chào xã giao Bộ trưởng Quốc vụ Bộ Y tế TS. Bharati Pravin Pawar. Đại sứ và Bộ trưởng đã trao đổi về tình hình dịch Covid-19 ở hai nước và sự phối hợp, hỗ trợ lẫn nhau để bảo vệ sức khỏe người dân hai nước trong bối cảnh hiện nay. Đại sứ Phạm Sanh Châu cảm ơn Ấn Độ vừa qua đã hỗ trợ máy tạo oxy và oxy cho Việt Nam, đánh giá cao các nỗ lực chống dịch của Ấn Độ trong thời gian qua, đề nghị Ấn Độ tiếp tục dành sự ủng hộ và cung cấp vaccine Covid-19 cho Việt Nam trong thời gian tới. Bộ trưởng Bharati Pravin Pawar bày tỏ cảm ơn Chính phủ và nhân dân Việt Nam đã hỗ trợ Ấn Độ trong giai đoạn làn sóng Covid-19 thứ hai tấn công và cho biết sẽ hết sức nỗ lực ủng hộ Chính phủ Ấn Độ hỗ trợ Việt Nam chống dịch.
Trước đó, Đại sứ Phạm Sanh Châu cũng đã có buổi làm việc với Trợ lý Bộ trưởng Ngoại giao Vinay Kumar đặc trách các hoạt động quốc tế liên quan tới Covid-19."
"Ambassador Pham Sanh Chau paid a courtesy call to Honorable Union Minister of State, Ministry of Health and Family Welfare, Dr. Bharati Pravin Pawar on 12 October. The Ambassador and Madam Honorable Minister exchanged views on the Covid-19 situation in respective countries and mutual coordination and assistance to protect people's health in this challenging time. Ambassador Chau expressed his thanks to the Government of India for having delivered liquid medical oxygen and oxygen concentrators to Vietnam, highlighted the efforts India has made in the battle against the pandemic, and requested the country to continue its support and provide vaccines to Vietnam. Madam Honorable Minister Pawar also extended her gratitude toward the Government and people of Vietnam for the latter's support and assistance to the people of India during the second wave of Covid-19. She also pledged to stand by the Government of India in supporting Vietnam in the battle.
Earlier on the same day, Ambassador Chau also had a meeting with Additional Secretary, Ministry of External Affairs, Mr. Vinay Kumar."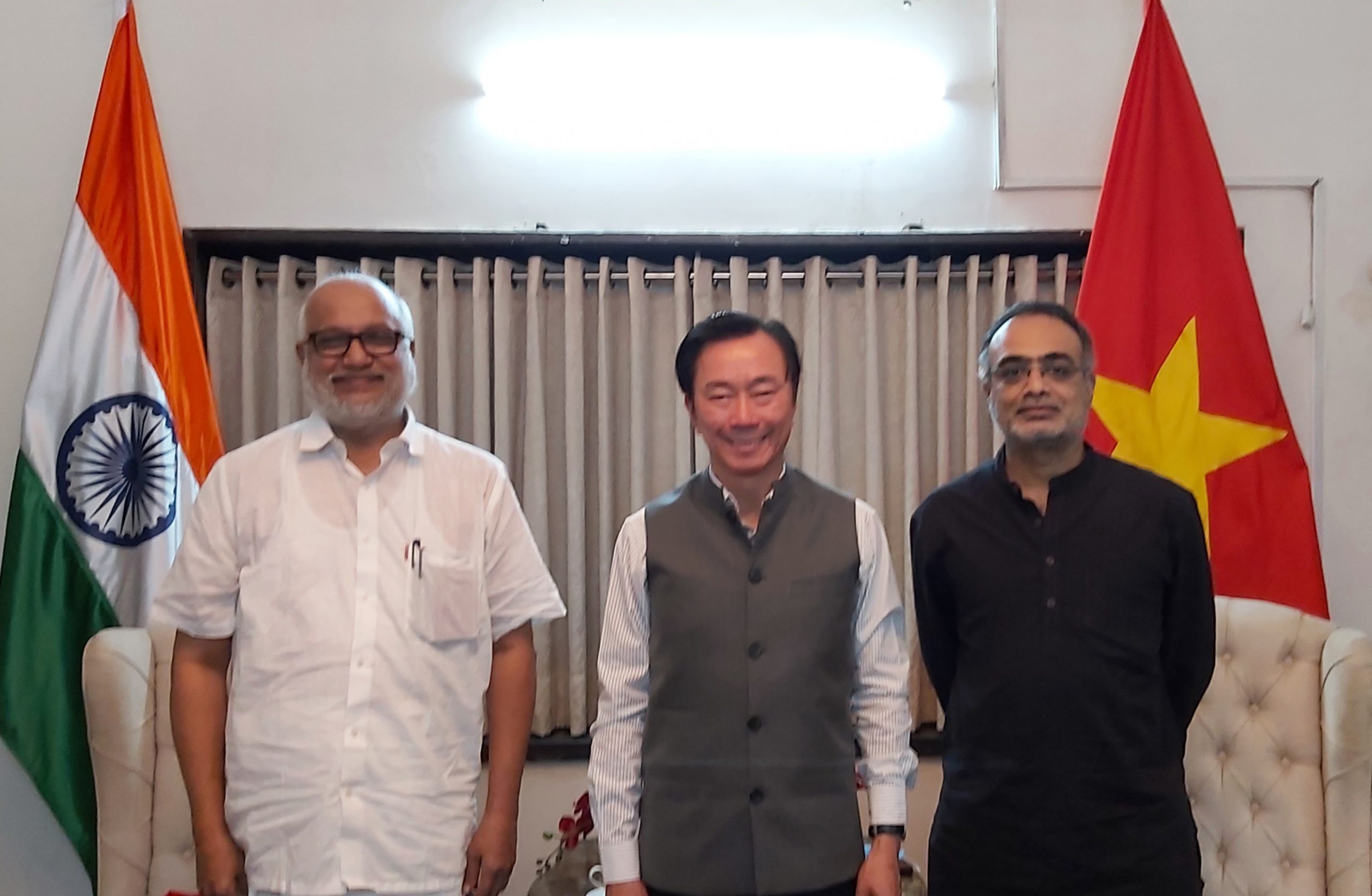 Ngày 12/10, Đại sứ Phạm Sanh Châu đã tiếp Ủy viên Bộ Chính trị, Trưởng Ban Quốc tế Đảng Cộng sản Ấn Độ mác-xít (CPI-M) A. Baby. Hai bên đã trao đổi về một số hướng tăng cường thắt chặt hơn nữa quan hệ tốt đẹp và hợp tác giữa hai Đảng trong thời gian tới."
"Ambassador Pham Sanh Chau held talks with Com. A. Baby, Politburo member and Head of International Department of the Communist Party of India (Marxist) (CPI-M) on 12 October to discuss measures to further strengthen relations and cooperation between the two Parties."