On 24 June  2020, Representative Office of Vietnam's Science and Technology in India, Vietnam Embassy in India cooperated with Research and Information System for Developing Countries (RIS) to organize webinar on the theme "Promoting STI cooperation between Vietnam and India: Perspectives and prospects".
The webinar was co-chaired by Ambassador of Vietnam to India Pham Sanh Chau, Ambassador of India to Vietnam Pranay Verma and Professor Sachin Chaturvedi – General Director of RIS. Prestigious speakers from both Vietnam and India presented at the webinar, including: Assoc. Le Van Toan, Chairman of the Scientific Council of the Center for Indian Research; Dr. Le Thi Hang Nga, Deputy Editor-in-Chief of the Journal of Indian and Asian Studies, Vietnam Institute of Indian and Southwest Asian Studies; Dr. Sanjeev Kumar Varshney, Head of Division & Advisory, International Bilateral Cooperation Department (IBCD), Indian Ministry of Science and Technology; Mr. Arvind Gupta, Founder of iSPiRT & Digital India Foundation.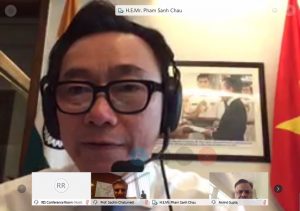 HE. Pham Sanh Chau addressed the webinar
At the webinar, the speakers emphasized STI cooperation as one of the important pillars of the relationship between Vietnam and India. In recent years, two countries have had many cooperative activities with positive results, especially in the fields of agriculture and IT. In the coming years, two countries need to promote more cooperation, especially between government agencies and non-government agencies including universities and S&T organizations.
The main areas of cooperation between two countries in the coming years were analyzed and mentioned by experts, including: blue economy, digital economy, new energy, renewable energy, materials science, biotechnology, IT, healthcare, pharmaceuticals, ocean research, environmental protection; promote start-ups, innovation and supply chain connectivity… In addition, strengthening cooperation in social science and humanities is also an important aspect of scientific cooperation between two countries./.