Lao Ambassador to India HE. Bounneme Chouanghom and his spouse on February 8 led a delegation to the Vietnamese Embassy on the occasion of the Tet (Lunar New Year) festival.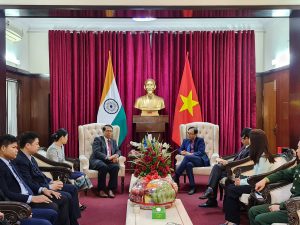 Receiving the delegation, Chargé d'Affaires Do Thanh Hai congratulated the Lao counterpart on the successful 11th National Congress of the Lao People's Revolutionary Party (LPRP). HE. Bounneme Chouanghom extended congratulations on the accomplishments of the 13th National Congress of the Communist Party of Vietnam. The two sides reaffirmed the desire to contribute to furthering special cooperative relations between the two countries.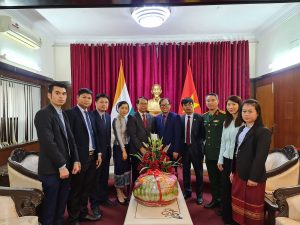 Chiều ngày 08/2, Đại biện Đỗ Thanh Hải đã tiếp Đại sứ Bounneme Chouanghom, Phu nhân và đoàn đại biểu của ĐSQ Lào tới chúc mừng năm mới nhân dịp Tết Tân Sửu 2021.
Nhân dịp này, Đại biện Đỗ Thanh Hải chúc mừng thành công của Đại hội XI Đảng Nhân dân Cách mạng Lào, Đại sứ Bounneme Chouanghom chúc mừng thành công của Đại hội XIII của Đảng Cộng sản Việt Nam. Hai bên khẳng định mong muốn tiếp tục đóng góp vào thúc đẩy hơn nữa mối quan hệ hữu nghị, đoàn kết đặc biệt và hợp tác toàn diện giữa hai nước.