With a fusion of aromatic herbs, fresh vegetables, meat and a selective use of spices, Vietnamese food is not only quite unlike any other food in Southeast Asia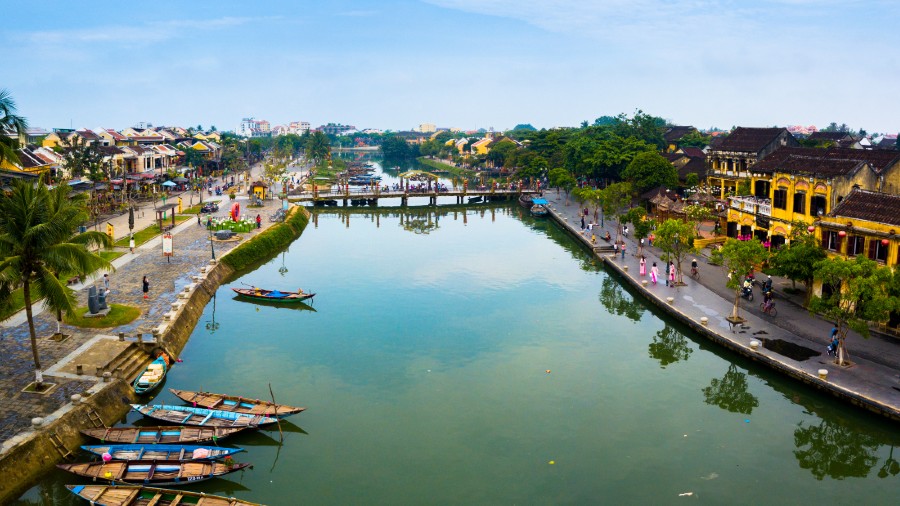 ---
The fourth part of my five-part gastronomical adventures has brought me to Vietnam. I happened to visit this beautiful country twice in 2019, which goes to show how much I really enjoyed their hospitality, food and culture. The food of Vietnam features a harmonious blend of five basic condiments that includes spicy, sour, salty, sweet and bitter to create a distinctive flavour.
With a fusion of aromatic herbs, fresh vegetables, meat and a selective use of spices, Vietnamese food is not only quite unlike any other food in Southeast Asia, but also regarded as one of the healthiest cuisines in the world.
Here, I have shared my favourite dishes, which I loved during my visit to both north and south Vietnam. There they use a lot of beef and pork, which I have substituted with chicken and prawn; tofu and soya for vegetarians. So, let's begin our journey with some of these mouthwatering dishes, which are easy to make, pocket-friendly, and, most importantly, nutritious.
PHO GA (Chicken Noodle Soup)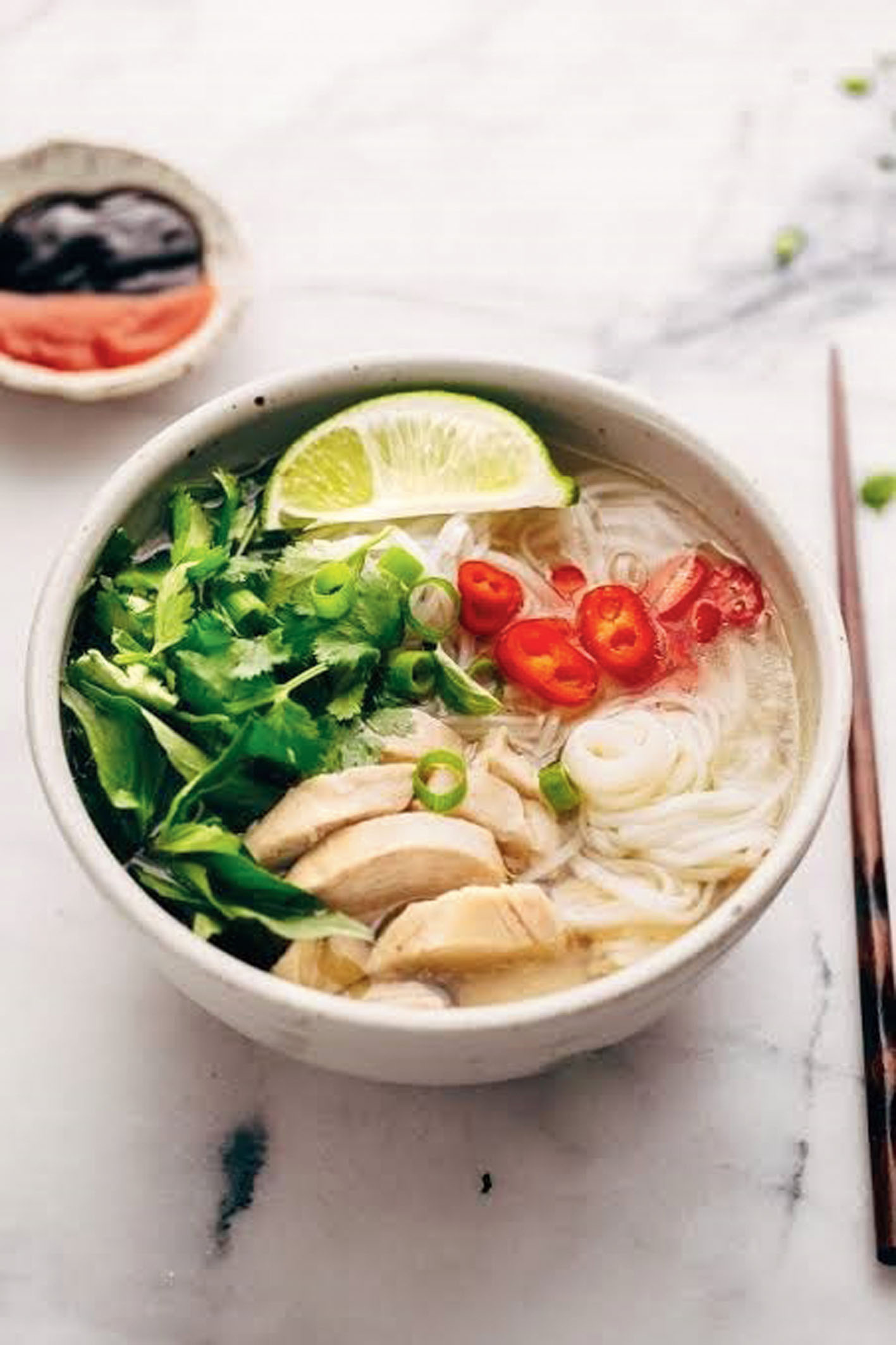 Pho Ga is Vietnam's national and most popular soup consisting of a rich broth, rice noodles, herbs, chicken or any protein of your choice (vegetarians can substitute chicken with tofu and mushrooms). It's a popular dish in restaurants and also available as a street food in most of the popular areas of Vietnam.
INGREDIENTS
• Whole chicken: 1 (and chicken bones)
• Rice noodles: 1 packet, boiled
• Ginger: 2"
• Onion: 1 large
• Star anise: 2
• Cinnamon: 1 stick
• Fish sauce: 2tbsp
• Sea Salt: 1tsp (or according to taste)
• Spring onions: 2, chopped
• Bean sprouts: 2 cups
• Coriander leaves
• Basil leaves
• Bird's eye red chillies: Chopped
• Lime juice
METHOD
• Char the onions and ginger over a flame. Remove the burnt part and keep aside. This is an important step for the flavour of the soup.
• In a pot, put the whole chicken and the chicken bones. Then add enough water to cover the chicken. Add the onion, ginger, star anise, cinnamon stick, fish sauce, spring onion and sea salt. Simmer for at least 50 minutes.
• Remove the chicken and take it off the bones. Be careful not to shred the chicken but keep it as big chunks. Put the bones back in the stock and let simmer for another 30 minutes on low flame. Then strain the stock. Check the seasoning.
• To assemble, in a bowl first put some noodles. Then put sliced chicken. Add spring onions. After that, add the hot steaming broth. Then put the bean sprouts, coriander leaves, bird's eye red chillies and lime juice according to taste.
BANH MI (Sandwich)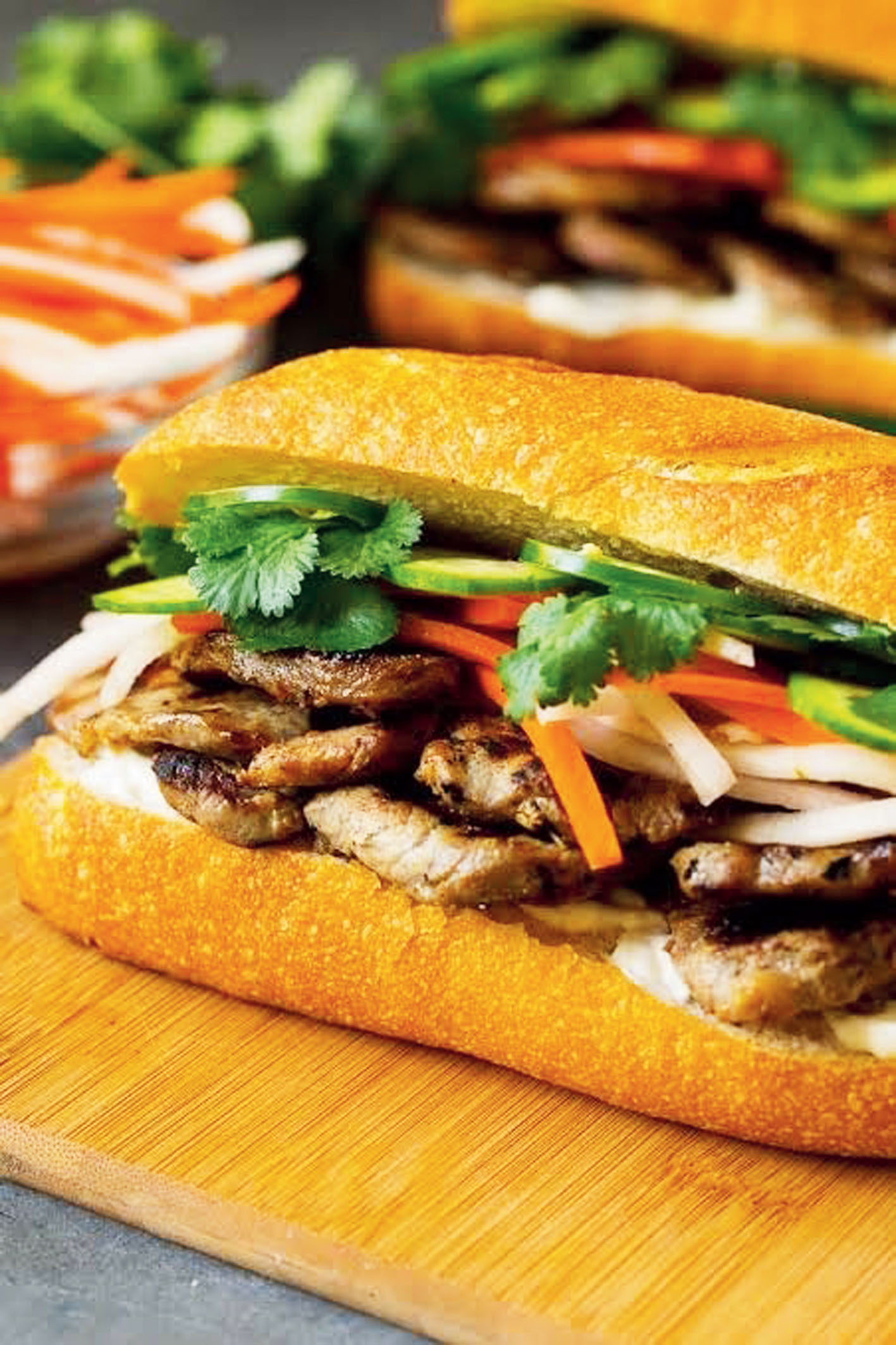 Banh Mi is the iconic Vietnamese sandwich. The French brought with them the baguette when they occupied Vietnam and then the locals put in their own culture into the sandwich. You just cannot leave Vietnam without having a Banh Mi. They use pork belly, beef or chicken. I will show you how to make it with Char Sui Chicken. This sandwich has all the goodness of herbs, vegetables and protein. Banh Mi is the most popular street food all over Vietnam.
INGREDIENTS
• French baguette: Toasted in the oven set at 350°F for 7 minutes to form a nice brown crust. You can use as it is also.
• For the pickle
• Radishes: 2, cut into long thin batons
• Carrots: 1, cut into long thin batons
• Sugar: 2tsp + ½ cup
• Salt: 1tsp
• Sea salt: 1tsp
• Vinegar: ¼ cup
• Water: 1 cup
• For the Char Sui Chicken
• Boneless chicken: 800g, cut into broad strips.
• Garlic: 4 cloves, minced
• Chinese five spice powder: ¼tsp
• Hoisin sauce: 2tbsp
• Soya sauce: 1½tbsp
• Tomato ketchup: 1tbsp
• Sesame oil: 2tsp
• Honey: 2tbsp.
• Condiments: Mayonnaise, sriracha hot chilli sauce, black pepper, cucumber batons or cut round, salad leaves, basil leaves, mint leaves and coriander leaves.
METHOD
• For the Char Sui Chicken
• Marinate the chicken with garlic, Chinese five spice powder, Hoisin sauce, soya sauce, tomato ketchup, sesame oil and honey. Keep aside for 30 minutes.
• In a grill pan put a little oil. Set it over medium-high heat. Add the chicken with the marinade and cook till tender, 6-8 minutes.
• To make the pickle
• In a bowl put 2tsp sugar and 1tsp salt. Put the carrots and radish sticks and give them a gentle massage. Then rinse in water. For pickling, in a bowl put the sea salt, ½ cup sugar and ¼ cup vinegar and 1 cup water. Put the carrots and radish into this mixture and leave it there. This can also be stored in an airtight glass container in the fridge.
• To make the Banh Mi
• Slit the baguette on one side. Scoop out some of the bread from inside to make a hollow.
• Spread mayonnaise on both sides. Sprinkle little black pepper and little sriracha hot sauce (to taste). Place the chicken. On top put the cucumber and pickled carrot and radish. Place salad leaf and sprinkle coriander, mint and basil leaves. Fold the baguette and there you have the best sandwich ever.
• Vegetarians can use tofu instead of chicken.
BO KHO (Mutton stew)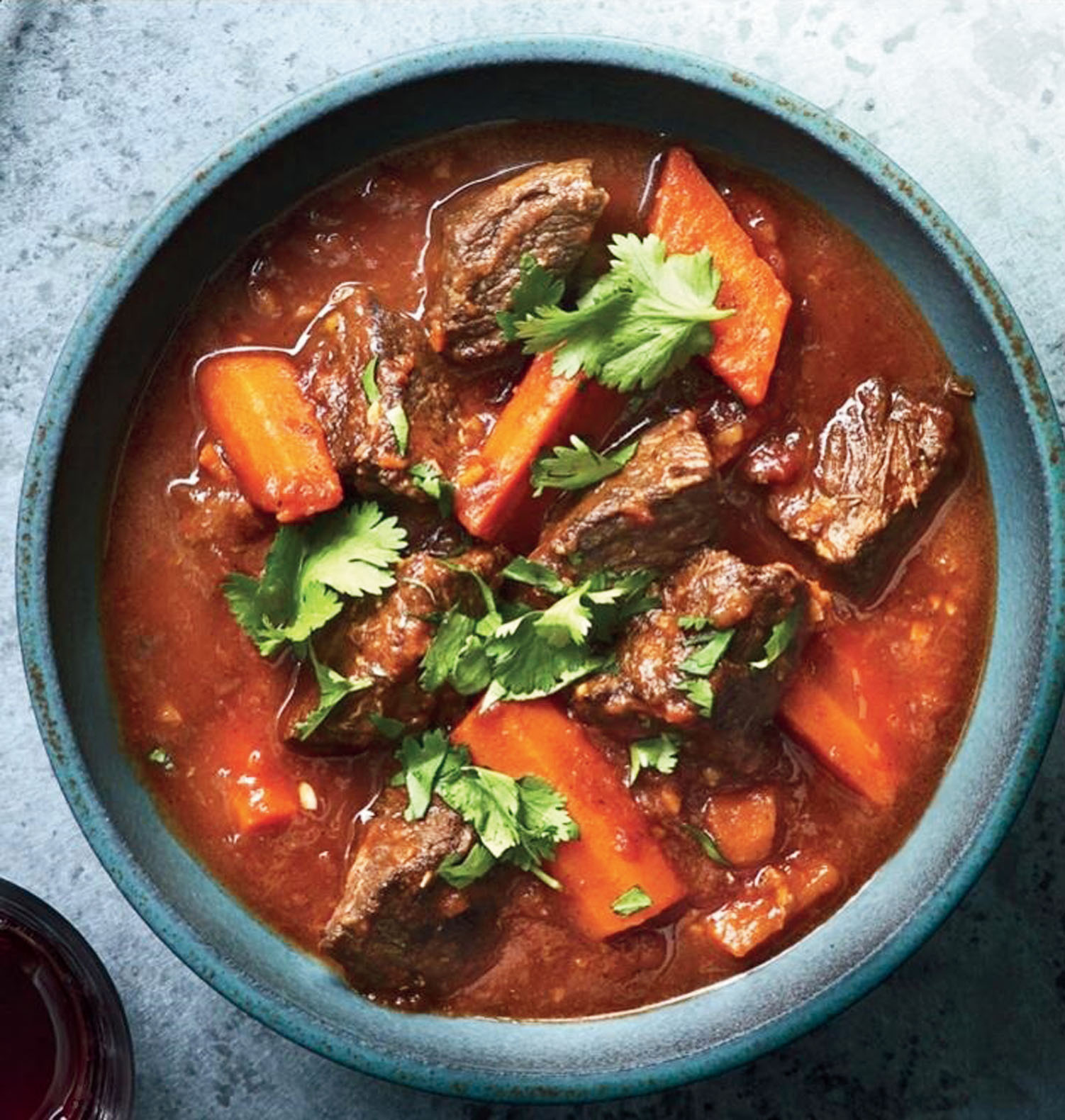 This stew is packed with tender, fall-apart, mutton chunks loaded with herbs, aromatic and delicious thick broth and had with French baguette. It's an incredibly satisfying meal and this recipe is pretty hard to mess up.
INGREDIENTS
• Mutton: 800g boneless and cut into 1½-inch cubes
• Lemongrass: 1. Remove the tough outer edges and cut into 3-inch length
• Fish sauce: 3tbsp
• Chinese 5-spice powder: 1½tsp
• Ginger: 2½tbsp, minced
• Brown sugar: 1½tsp
• Bay leaf: 1
• Neutral oil: 3tbsp
• Onion: 1 large, finely chopped
• Tomatoes: 2 cups, finely chopped
• Salt: ½tsp (or to taste)
• Carrots: 2, cut into 1-inch chunks
• Coriander: ¼ cup, chopped
• Basil: ¼ cup
• Star anise: 2
• Water: 3 cups
METHOD:
• In a bowl, combine mutton, lemon grass, fish sauce, five spice powder, ginger, brown sugar and bay leaf. Coat the meat and marinate for 30 minutes.
• In a heavy-bottomed pot, heat oil over high heat but not smoking. Sear the mutton pieces on all sides in batches. Each batch should take about 3 minutes. Remove and keep aside.
• Lower the heat to medium and add the onions and cook gently for 4 minutes. Then add the tomatoes and salt. Stir well and cook for 10 minutes. Check to see that the paste does not stick to the bottom of the pan. If it does, just splash some water and mix.
• Add the mutton, with the bay leaf and lemongrass. Put star anise. Give it a good stir and cook uncovered for 5 minutes to let the flavours to penetrate the mutton.
• Now add water and after bringing it to a boil cover the pot and lower the heat to a simmer and cook for 1 hour till the meat is tender.
• Add the carrots and cook uncovered till they are done.
• Just before serving check for seasoning and the consistency of the gravy. If it is too thick add a little hot water.
• Garnish with coriander and basil leaves. It is best had with a crusty French baguette or dinner rolls.
CARAMEL CHICKEN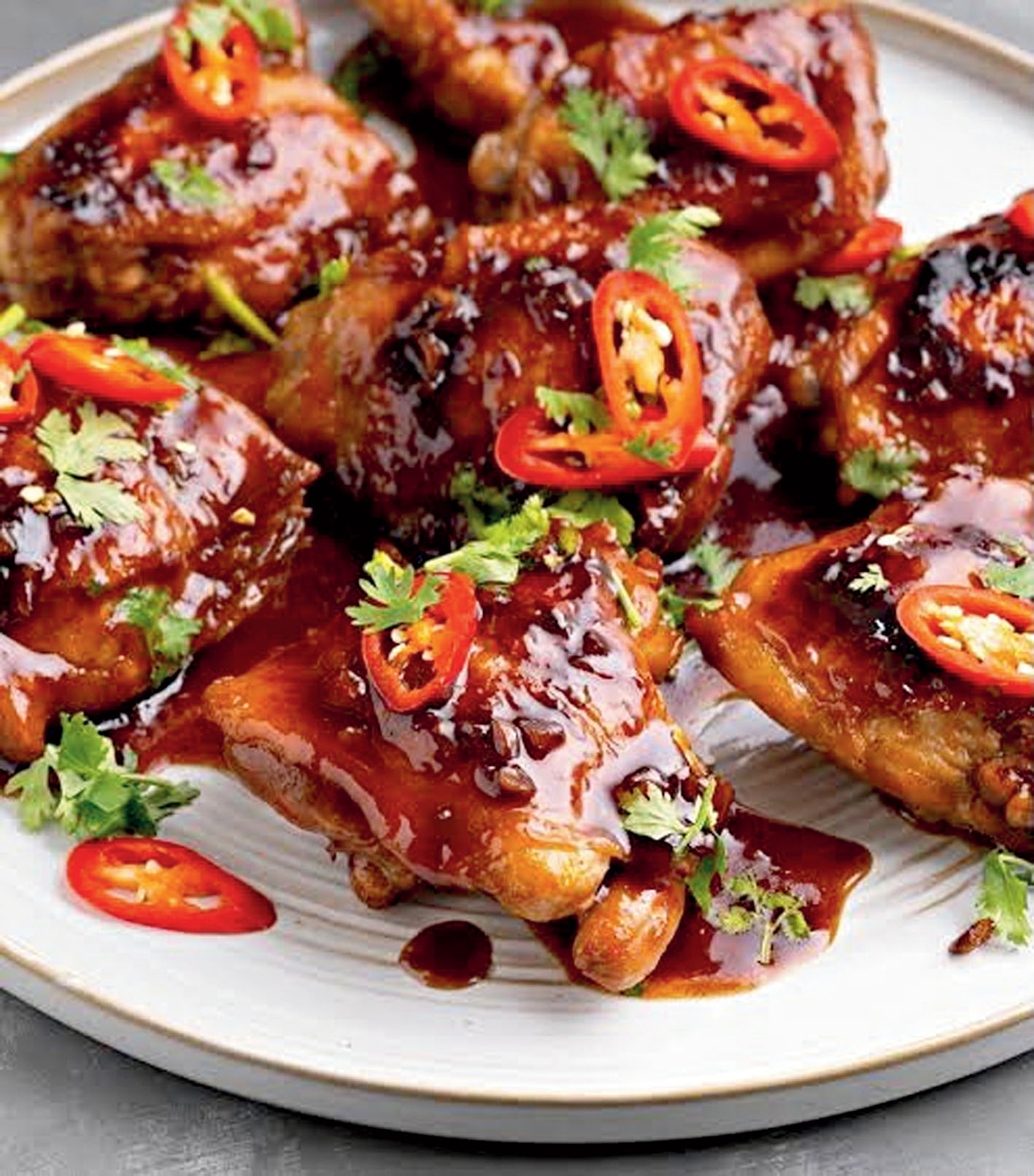 Coconut Water Caramel Chicken is a magical and easy dish cooked with Vietnamese flavorings until it reduces down to a sweet savoury glaze and the chicken is tender. Serve this along with hot rice, fresh salad, cucumber and spring rolls.
INGREDIENTS
• Chicken thighs with bone and skin: 8 (can make without bone if you like)
• Garlic: 3 cloves chopped fine
• Brown sugar: 1/3 to ½ cup
• Fish sauce: 2tbsp
• Coconut water: 1 cup
• Black pepper: ½tsp
• Oil: 1tbsp
METHOD
• Sprinkle a little salt over the chicken.
• In a pan heat the oil and saute the chicken on both sides till it is brown yet not cooked through. Remove the chicken.
• To the pan add garlic, sugar, fish sauce, coconut water and black pepper. Put the chicken back, reduce flame and cook for 3-4 minutes. Flip the chicken and cook covered for 10 minutes. The sauce should not be too thick or too runny. It should have a lovely glaze and the chicken should be coated well and tender.
• Check for seasoning.
• Serve the chicken with hot rice, cucumber, fresh salad and garnish with spring onions and chopped bird's eye red chillies.
CHAO GA (Chicken Rice Porridge)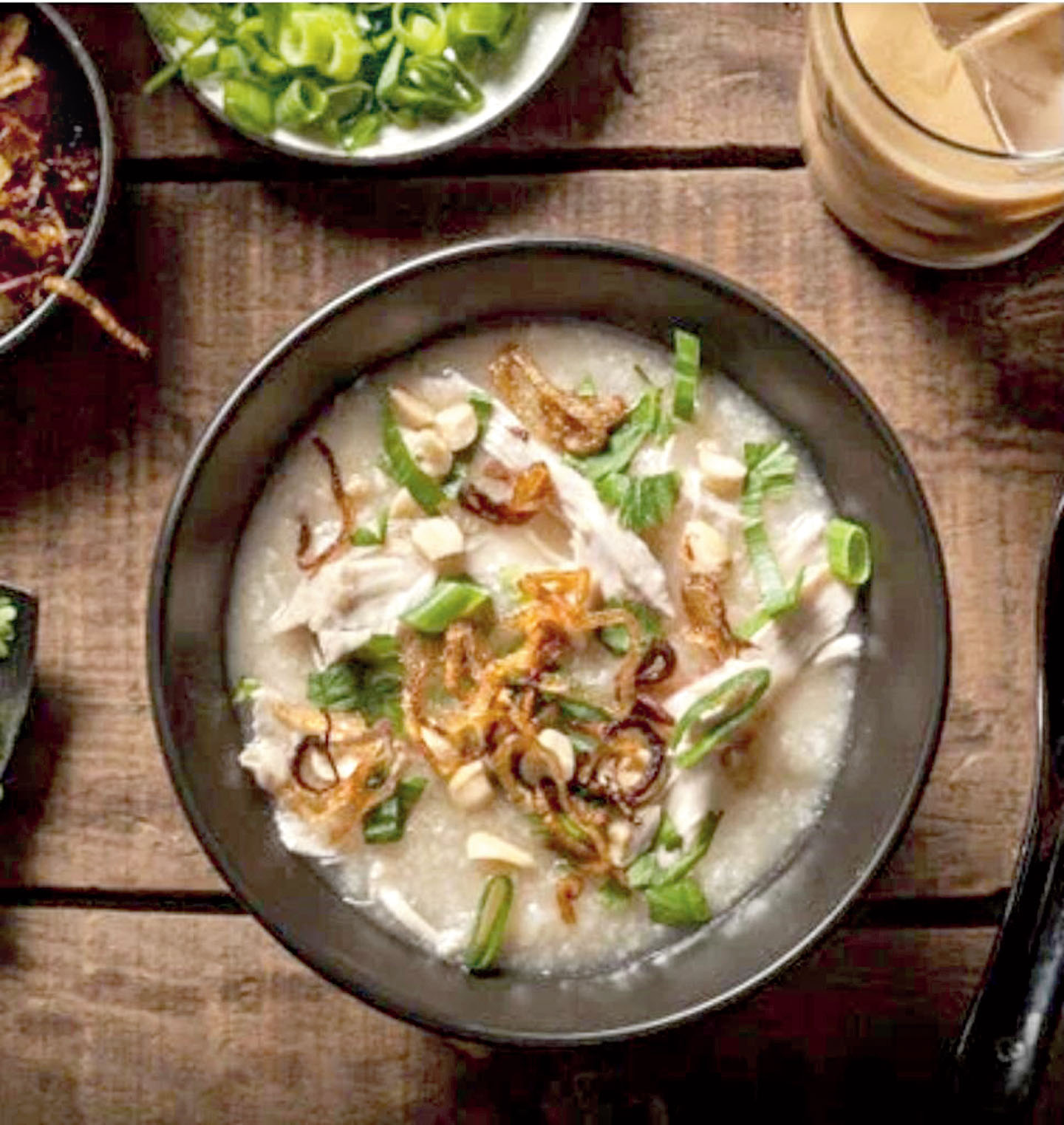 Chao Ga is very similar to chicken conjee. The rice and chicken complement each other with light seasoning and chicken broth base. This is a real one-pot winner and that too in a pressure cooker. Extremely nutritious and healthy. A must for people who are sick or recovering from an ailment. It is so yummy I would like to have it all the time.
INGREDIENTS:
• Jasmine rice (or any rice you prefer): 1 cup
• Chicken: 400g
• Fish sauce: 1tbsp
• Soya sauce: 1tbsp
• Garlic: 4tsp, minced
• Ginger: 2tsp, minced
• Black pepper: ½tsp
• Chicken stock: 3 cups
• Salt: To taste
• Garnish: Crispy fried onions, chopped spring onions and 1tsp sesame oil.
METHOD
• Wash and drain the rice.
• In a pressure cooker, put the rice, chicken, fish sauce, garlic, ginger, black pepper, salt and chicken stock. Mix everything well. Pressure cook on high for 20 minutes before allowing a steam release after around 10 minutes.
• If using chicken with bones then remove the chicken and shred it and put back in. If using boneless then let the chicken remain. Give the conjee a good stir. It should not be watery or too thick. The consistency depends on you.
• When serving, garnish with fried onions, spring onions and sesame oil. Have with rice or prawn crackers (optional).
• For a vegetarian version add vegetable stock and tofu and a little of Miso paste instead of fish sauce. You can also add sauteed mushrooms.
https://www.telegraphindia.com/culture/food/durri-bhalla-on-why-vietnamese-food-is-not-only-quite-unlike-any-other-food-in-southeast-asia/cid/1818608