On 14 November 2020, Vietnamese Youth and Students Association in India with coordination with the Embassy of Vietnam and Ho Chi Minh Youth Union organized a webinar themed "Vietnamese Students in India: Adaptation, Optimism, Safety and Development". The program was attended by students at ICCR, ITEC, and ASEAN PhD Fellowship Program, which stand for the excellent intellectual links between Vietnam and India.
Link for application belows:
Vào ngày 14/11/2020 vừa qua, với mục đích tổng hợp lại một năm đầy khó khăn và thử thách do COVID-19 của du học sinh việt Nam tại Ấn Độ, chia sẻ cuộc sống, học tập và nghiên cứu đồng thời đón tết Diwali truyền thống nơi đây, Chi hội Học sinh, Sinh viên, Thanh thiếu niên Việt Nam tại Delhi phối hợp với Đại sứ quán Việt Nam tại Ấn Độ và Ban quốc tế Trung ương Đoàn Thanh niên Cộng sản Hồ Chí Minh tổ chức WEBINAR với chủ đề "DU HỌC SINH VIỆT NAM TẠI ẤN ĐỘ THỜI COVID-19: THÍCH ỨNG – LẠC QUAN – BÌNH AN – PHÁT TRIỂN".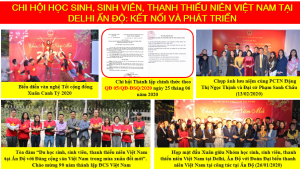 Webinar có sự tham gia của các du học sinh Việt Nam tại Ấn Độ thuộc chương trình ICCR, ITEC và mới đây nhất là Nghiên cứu sinh chương trình ASEAN PhD Fellowship Programme một biểu tượng mạnh mẽ của sự đoàn kết tri thức giữa Ấn Độ – ASEAN và sẽ giúp đào tạo một thế hệ kỹ sư công nghệ hàng đầu cho ASEAN.