On January 15, 2023, the Embassy of Vietnam in India in collaboration with the Vietnamese Association in Chennai and the Honorary Consul of Vietnam in Tamil Nadu organized a Vietnamese Lunar New Year celebration in Chennai, India. The program was attended by Vietnamese Ambassador to India, H.E. Nguyen Thanh Hai along with nearly 100 Vietnamese people living and working in Chennai. The community was very excited to meet and gather to welcome Lunar New Year after a hiatus due to the Covid-19 pandemic.
On this occasion, Ambassador Nguyen Thanh Hai shared details about the country's strong development and Vietnam-India relations in the past year. The Ambassador also conveyed new year greetings to the community in Chennai. He stressed that the Embassy has always prioritized serving Vietnamese immigrants to India. He added that the Embassy would continue to support people in stabilizing their life and integrating into the Indian locality, while preserving the national culture. Besides, expats would be assisted in keeping contact with their homeland.
This event is not only an opportunity for the Embassy to meet and convey its regards to the overseas Vietnamese but also a chance for people to gather, exchange and celebrate Tet holiday while being away from the Fatherland. On behalf of the Vietnamese community in Chennai, Ms. Fatima thanked the Embassy for its interest in the Vietnamese community in India and especially the people in Chennai. Vietnamese people in Chennai, although far from their homeland, still hold their heart close to the Fatherland. The event has helped people relieve their homesickness and also provided an opportunity to preserve the Vietnamese culture and traditions for the first, second and third generations of Vietnamese people currently living in Chennai.
Also at the event, Ms. Kavitha Dutt expressed her emotion and honor to be the honorary consul of Vietnam in Chennai. Ms. Kavitha Dutt expressed her commitment to make concerted efforts with the Embassy to support Vietnamese people here as well as promote trade and investment cooperation between the two countries.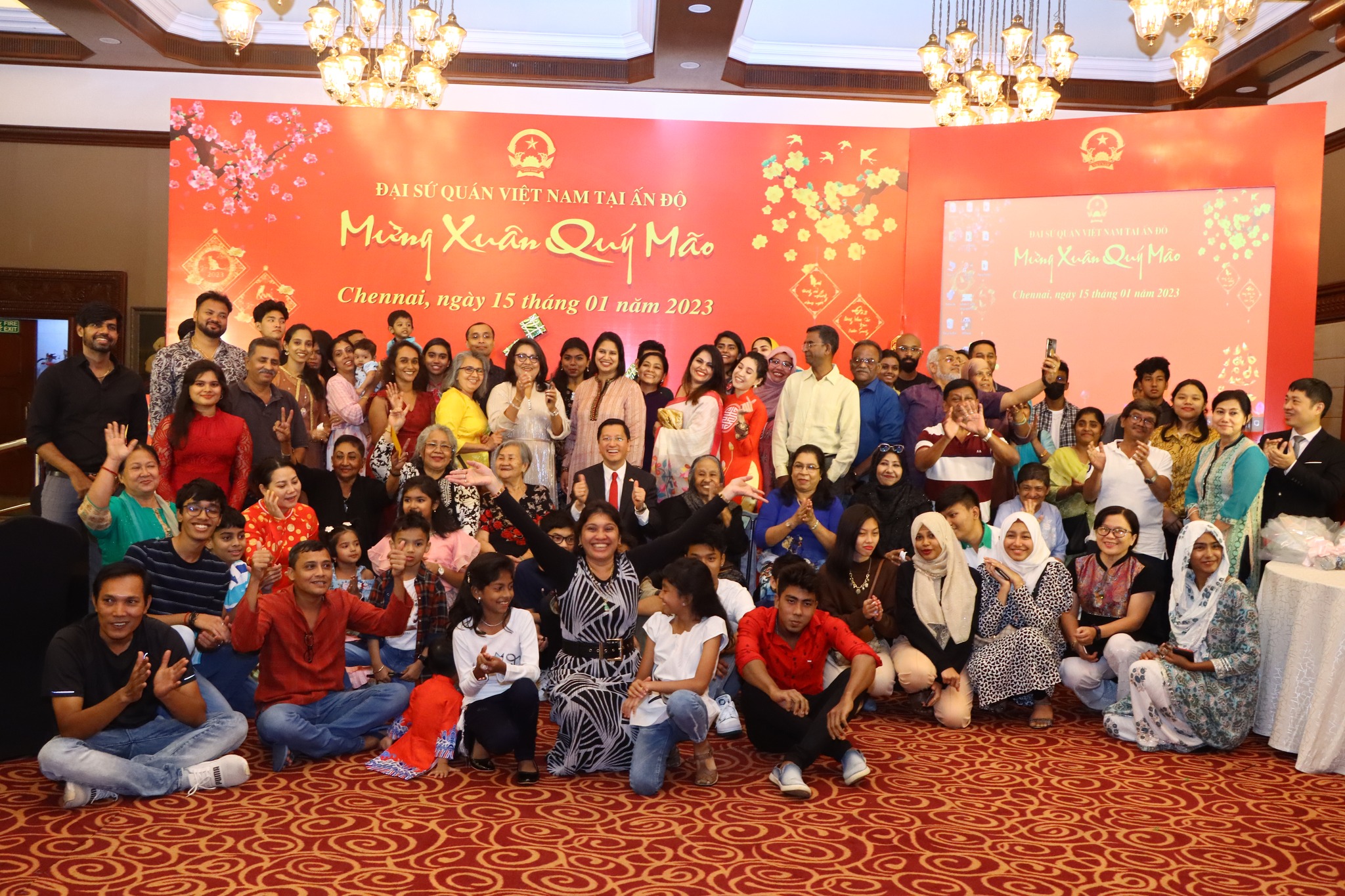 The Vietnamese Lunar New Year celebration in Chennai took place in a cozy atmosphere with traditional dishes and many unique performances of the community. This event also highlighted the cultural beauty of the Vietnamese community in Chennai.
Chennai is the capital of the state of Tamil Nadu, located in southern India, the 3rd largest industrial and commercial center of India, and contains the largest number of Vietnamese people living in India.