From March 01-04, 2022 Vietnamese Ambassador to India Nguyen Thanh Hai paid his first official visit to Gujarat, one of India's most dynamically developing states with a growth rate of 15% in the fiscal year 2015 – 2022. Gujarat is also home to the great leader Mahatma Gandhi and current Prime Minister Narendra Modi.
On the morning of March 2nd, 2023, the Ambassador greeted and worked with Gujarat Chief Minister Bhupendrabhai Patel. Mr. Hai introduced the strong development and deep international integration of Vietnam over the years. He emphasized the great potential for cooperation between Gujarat and Vietnam in the fields of trade, investment, tourism, taking advantage of 8 direct flights between the two sides from 2022. He also suggested that the two sides create favorable conditions for businesses to explore investment opportunities, in which Vietnam expects leading Gujarat enterprises to invest in Vietnam in areas such as seaports, logistics, pharmaceuticals, etc. At the same time, as some Vietnamese enterprises are interested in exploring investment cooperation in India such as steel production and petrochemicals, ambassador Nguyen Thanh Hai stressed the need to increase two-way trade in goods that the two sides have strengths and demand.
Chief Minister Bhupendrabhai Patel highly appreciated Ambassador Nguyen Thanh Hai for choosing Gujarat state as the first one to visit after assuming his position as a Vietnamese Ambassador to India. He agreed with the ambassador's proposals and assigned the authorities to plan to coordinate the implementation immediately. The Chief Minister also agreed that the two countries should develop local connectivity.
On the same day, Ambassador Nguyen Thanh Hai also met with Gujarat State Home Minister Harsh Sanghavi and Deputy Minister of Education and Climate Change S. J. Haider to discuss specific cooperation potentials. With the Home Minister, the two sides shared experiences of Vietnam and Gujarat in reforming administrative procedures and attracting foreign investment.
With Deputy Minister S. J. Haider, the Ambassador expressed his desire to promote educational exchanges between the two sides, noting that Vietnam has accepted about 100 Indian students to study at medical universities and is ready to receive more Indian students. Deputy Chief Minister S. J. Haider also shared Gujarat's experience in response to climate change.
On March 3rd, Ambassador Nguyen Thanh Hai had a meeting with about 30 members of the Gujarat Chamber of Commerce and Industry, including many businesses that have been doing business with Vietnam. Gujarat businesses asked the Embassy to help connect themselves to Vietnamese businesses. The Ambassador suggested some potential areas where the business community of the two sides can cooperate in investment. The Ambassador asked the Gujarat business community to identify some key commodities that need to focus on to remove difficulties and increase import and export turnover in the coming time such as cotton, steel, agricultural products, seafood.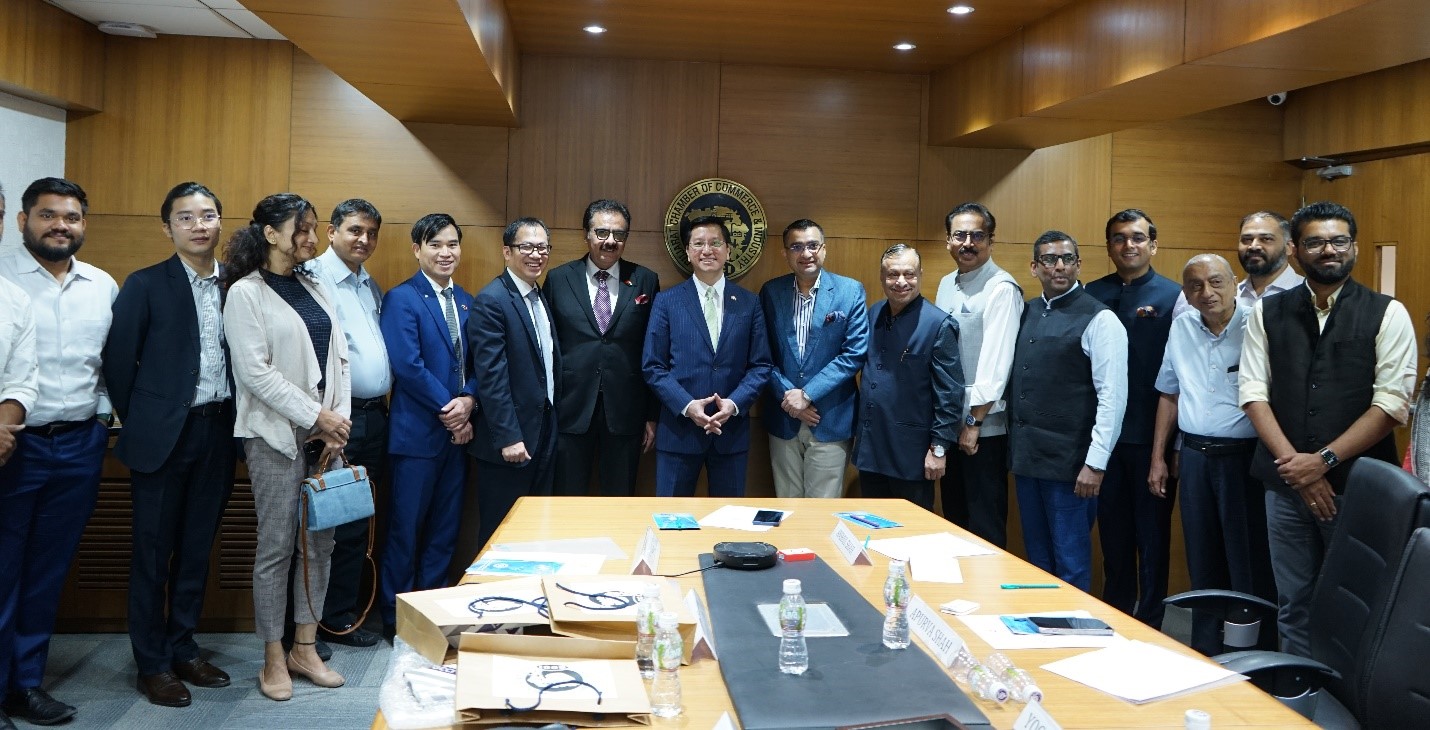 During his visit to Gujarat, Ambassador Nguyen Thanh Hai attended activities to promote tourism (on March 1st) and education (on March 4th). Opening the Vietnam Tourism Forum with the participation of about 40 travel companies, wedding organizers, the Ambassador introduced the tourism potential of Vietnam and encouraged Gujarat people to visit, play golf, organize weddings in Vietnam. Travel companies expressed their excitement at the huge tourism potential in Vietnam, according to the fact that Vietnam is now a very popular destination for Gujarat people and many weddings of Gujarat people have been held in Vietnam.
To promote education, Ambassador Nguyen Thanh Hai introduced Vietnam's strengths in higher education, especially in the field of medicine. Given a sharp increase in the demand for medical university of Indian students, the Ambassador believed that Vietnamese medical universities such as Hue University of Medicine and Pharmacy, Can Tho University of Medicine and Pharmacy, Hong Bang International University … would meet the needs of Indian students.
On the occasion of his work in Gujarat, Ambassador Nguyen Thanh Hai visited Gujarat International Financial Technology City, the first financial technology center operating in India. The Ambassador also had a meeting with General Director Karan Adani of Adani Port and Special Economic Zone Company. Mr. Karan Adani said Adani Group will continue to implement investment activities in Vietnam as committed. Adani Group is interested in infrastructure, port, logistics projects as well as appropriate green energy initiatives in Vietnam including lien Chieu port project, Da Nang.
During the trip, Ambassador Qinghai also visited Sabarmati Ashram, where Mahatma Gandhi was active from 1917 to 1930, a site of great historical significance in the freedom struggle in India.