On November 14th, 2022, Ambassador Nguyen Thanh Hai attended the opening of the Vietnam pavilion at the 41st International Trade Fair (IITF) at Pragati Maidan Trade Exhibition Center, New Delhi, India.
IITF is the largest multidisciplinary exhibition in South Asia with a total area of 73,000 m2, the exhibition area is 38000 m2. The fair covers wholesale and retail trade, providing opportunities to promote various products and services targeting Indian consumers. 29 states/territories and 36 affiliated ministries of India participated in the fair.
In addition to the Vietnamese pavilion, the fair was attended by Afghanistan, Bangladesh, Bahrain, Belarus, Iran, Nepal, Thailand, Turkey, the UK, and Vietnam. The fair is expected to be attended by over 2500 businesses and visited by more than 1 million people.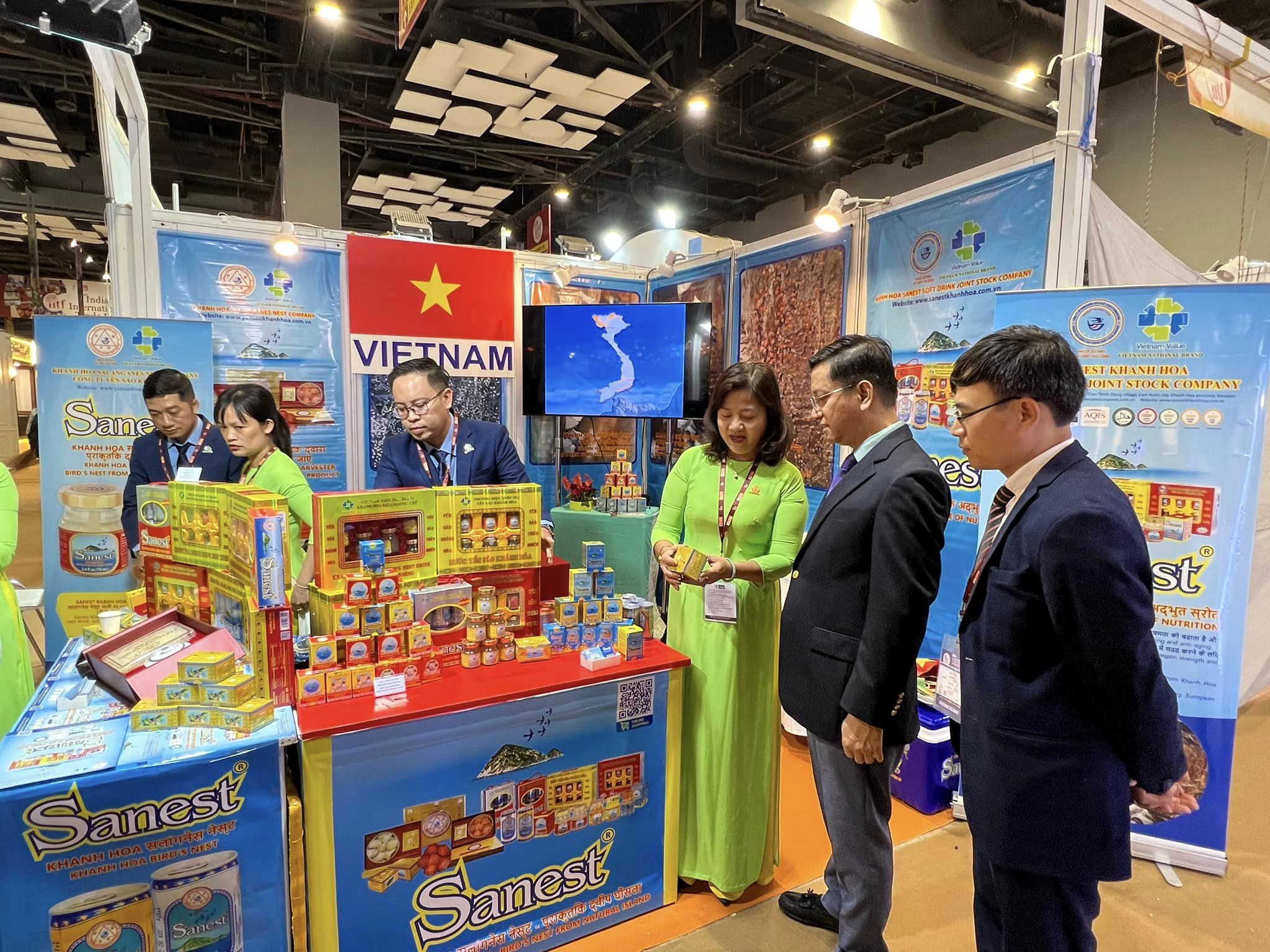 Other attendees at the opening ceremony of the Vietnamese pavilion were Mr. Bui Trung Thanh, Trade Counselor, representing the organizing committee, and business associations in India, and Ms. Le Thi Hong Van, General Director of NGK Sanest Khanh Hoa Joint Stock Company, representing Vietnamese businesses.
Speaking at the opening of the booth, Ambassador Nguyen Thanh Hai congratulated Vietnamese businesses, including NGK Sanest Khanh Hoa Joint Stock Company, on participating in the fair. As India has a large market capacity and is expected to become the world's third-largest economy in the coming years, it is crucial for businesses to expand the market, especially amid the shrinking demand of large and traditional markets.
The Ambassador praised and highly appreciated efforts to organize the pavilion which received high attention from businesses and localities in the country.
NGK Sanest Khanh Hoa Joint Stock Company wishes to use this trade promotion fair to find out information and access the market, aiming to export Sanest – Khanh Hoa Bird's Nest products to the Indian market.
Along with Sanest Khanh Hoa, nearly 20 other Vietnamese enterprises have registered to display products at the booth of the Trade Office – Embassy. Many provinces and cities requested the Fair to support the promotion of local investment, trade, and tourism potential through this fair.