On November 26, 2021, Ambassador Pham Sanh Chau had a meeting with Invest Global and Geleximco to explore cooperation forms and opportunities between Indian and Vietnamese businesses.
Ngày 26/11/2021, Đại sứ Phạm Sanh Châu đã có buổi làm việc với Invest Global và Geleximco nhằm tìm hiểu các cơ hội và cách thức hợp tác giữa các doanh nghiệp Ấn Độ với Việt Nam.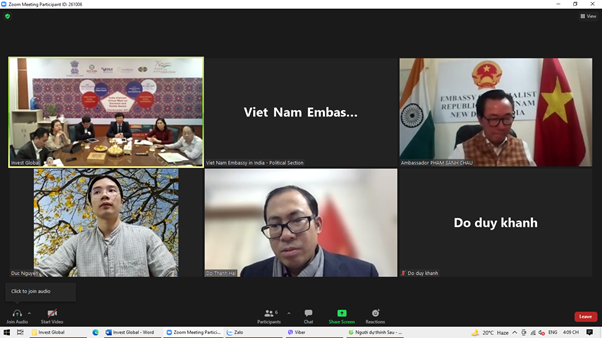 Tại buổi làm việc, Đại sứ Sanh Châu chia sẻ về một loạt các nhu cầu tìm kiếm đối tác tại Việt Nam của các nhà đầu tư Ấn Độ cũng như việc thay đổi chiến lược tiếp cận nhà đầu tư của Đại sứ quán, chuyển trọng tâm từ tiếp cận bề rộng qua các sự kiện phổ thông sang tiếp cận thông qua các quan hệ cá nhân tinh hoa tại địa bàn.